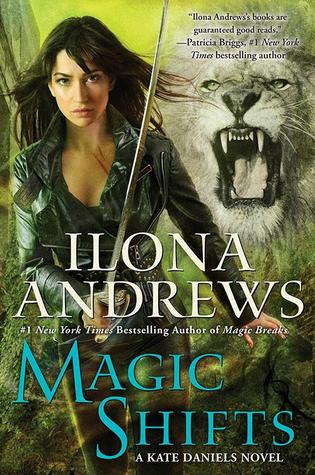 Quatrième de Couverture :
After breaking from life with the Pack, mercenary Kate Daniels and her mate—former Beast Lord Curran Lennart—are adjusting to a very different pace. While they're thrilled to escape all the infighting, Curran misses the constant challenges of leading the shapeshifters.

So when the Pack offers him its stake in the Mercenary Guild, Curran seizes the opportunity—too bad the Guild wants nothing to do with him and Kate. Luckily, as a veteran merc, Kate can take over any of the Guild's unfinished jobs in order to bring in money and build their reputation. But what Kate and Curran don't realize is that the odd jobs they've been working are all connected.

An ancient enemy has arisen, and Kate and Curran are the only ones who can stop it—before it takes their city apart piece by piece…
Note :
♣♣♣♣

♣
Avis :
Attention, ne lisez pas cet avis si vous n'avez pas lu les précédents !!!!!!!
C'est bon, nous pouvons y aller ?

Les événements du tome précédent, surtout en fin de roman, offrait un sacré rebondissement. Les auteurs se donnaient vraiment du mal pour garder le lecteur sur la brèche et ne pas sombrer dans la facilité. La décision de Curran de suivre Kate malgré les conséquences (l'abandon de la Meute) ne pouvait que provoquer des remous, quand à la révélation de la paternité de Kate, on se doute que les vampires ne vont pas laisser passer ça.

Côté intrigue de fond, on retrouve une enquête qui m'a rappelé les premiers tomes. Un peu tortueuse, aux multiples ramifications, et qui éprouve les connaissances de Kate aussi bien que ses capacités physique. Grosses différences, Curran est à présent un partenaire à plein temps et de ce fait, aide Kate dans ses affaires.
L'enquête permet aux auteurs de reparler de la Meute et des conséquence de la défection de Curran. On voit ainsi un peu Jim et Dali (qui mérite plus de place dans cette série tellement ils sont savoureux). Ce n'est pas un détail anodin car cela impact fortement sur la vie des personnages, mais également - de manière un peu plus détournée - sur l'enquête de Kate...et surtout pourquoi elle se mêle de ça.
En parallèle, la présence de Roland (qui fait une apparition) pose de multiples questions. Il agit étrangement alors que, à travers les yeux de Kate, on le voyait comme un monstre sanguinaire qui l'abattrait à vue.

Ce que je regrette, c'est l'absence d'évolution des personnages. Kate est prise par son enquête et donc ne peut pas vraiment avancer que ce soit vis à vis de son paternel ou même de sa vie personnelle. Quant à sa vie professionnelle, c'est tellement le bazar qu'elle prend les choses comme elles viennent sans vraiment suivre de plan sur le long terme.
Mais l'interaction Curran/Kate est un peu stagnante. Ils s'aiment, se le sont avoué et ... rien de plus ! Quand ils se tournaient autour c'était amusant, là c'est de la vie domestique, ce n'est pas hyper palpitant (même si j'adore ce couple de personnages, attention !).

J'attends de lire la suite, toujours avec plaisir, mais j'attends un peu "plus" pour la suite. Cette étincelle des premiers tomes que j'ai retrouvé avec bonheur dans leur autre série Hidden Legacy.
Infos :
Autres Tomes :
Autres Avis :
Autres Couvertures :