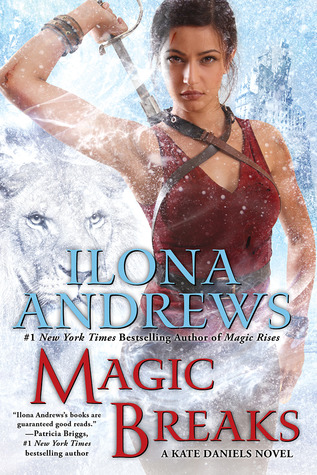 Quatrième de Couverture :
No matter how much the paranormal politics of Atlanta change, one thing always remains the same: if there's trouble, Kate Daniels will be in the middle of it…




As the mate of the Beast Lord, Curran, former mercenary Kate Daniels has more responsibilities than it seems possible to juggle. Not only is she still struggling to keep her investigative business afloat, she must now deal with the affairs of the pack, including preparing her people for attack from Roland, a cruel ancient being with god-like powers. Since Kate's connection to Roland has come out into the open, no one is safe—especially those closest to Kate.




As Roland's long shadow looms ever nearer, Kate is called to attend the Conclave, a gathering of the leaders from the various supernatural factions in Atlanta. When one of the Masters of the Dead is found murdered there, apparently at the hands of a shapeshifter, Kate is given only twenty-four hours to hunt down the killer. And this time, if she fails, she'll find herself embroiled in a war which could destroy everything she holds dear…
Note :
♣♣♣♣

♣
Avis :
J'ai toujours été une grande fan de cette série, depuis les premières pages du tome 1. Lorsque ce tome 7 est sorti, pour la première fois en grand format relié, je n'ai pas hésité et je l'ai commandé (j'ai même fait toutes les librairies de l'aéroport d'Abu Dhabi pour mettre la main dessus en avance - sait-on jamais). Pourtant, pourtant...je suis un peu déçue.
Durant les derniers tomes, la pression montait lentement pour Kate. Jusqu'à son paroxysme dans le tome 6 et la rencontre qui allait tout changer. Il ne faut pas oublier que Kate est un enjeux pour certaines personnes. L'occasion de se faire mousser auprès de Roland et de prouver bien des choses.
Lorsqu'un Maitre des Morts haut placé dans la hiérarchie est assassiné à Atlanta avec des marques incriminant les métamorphes, Kate comprend immédiatement que c'est en rapport avec elle.
L'absence de Curran est le premier fait à noter. Il part très tôt dans l'intrigue et ne revient que tardivement. Cela manque au lecteur fan, bien sur, mais on le ressent aussi sur le récit qui perd de son humour et de son piquant. Quand bien même Kate et Curran sont bien installé en couple, leur force était de ne pas sombrer dans la mièvrerie et de toujours s'envoyer des piques.
La deuxième chose, c'est que l'intrigue est très linéaire. Kate affronte les obstacles les uns après les autres, sans qu'il y ait vraiment de suspens. Passé la deuxième ou troisième difficultés, on comprend qu'il n'y a pas de complexité et que ça va être comme ça tout du long.
Les deux auteurs nous avaient habitué à bien mieux et ça m'a un peu déçue.
La fin du roman, qui marque clairement la fin du premier arc narratif, me laisse un peu songeuse. Roland me déçoit mais surtout je m'attendais à plus de combativité de la part de Curran. Alors il faut voir ce que ça va donner pour les deux derniers tomes, mais je suis dans le flou.
En bref, j'ai aimé lire ce roman, mais il y a des faiblesses qui ne se trouvaient pas dans les premiers tomes.
Infos :
Autres Tomes :
Autres Avis :
Autres Couvertures :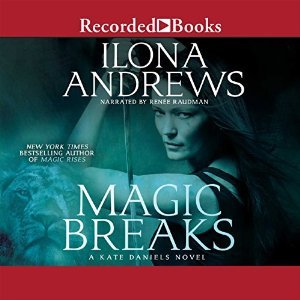 Challenges :