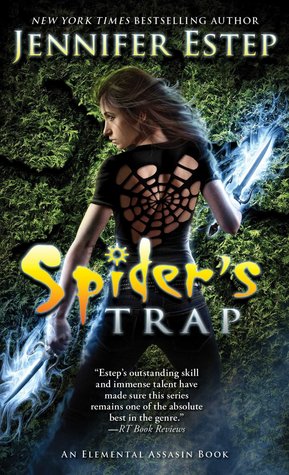 Quatrième de Couverture :
Keep your friends close but your enemies within stabbing distance.

One important lesson I've learned in the assassination business is that to be the best you have to roll with the punches. Now that I'm queen of Ashland's underworld—by default, not by choice—a lot more punches are being thrown my way. But I suppose that's the price of victory for taking down some of the underworld's top dogs. Good thing I have my Ice and Stone magic to help me survive my volatile new position. Just when I think things are finally settling down, someone tries to murder me during a hush-hush underworld meeting. But the real surprise is how strangely familiar my shadowy assailant seems to be.

My job is to maintain order among killers, crooks, and thieves, and soon I'm embroiled in a bloody game where the ability to keep secrets could be the greatest superpower of all. My enemies have all sharpened their knives and laid their traps, waiting for me to fall. But this Spider weaves her own webs of death…
Note :
♣♣♣♣

♣
Avis :
L'auteur continue tranquillement sa série sur Gin, même si elle a d'autres projets en parallèle. Il semble que nous n'avons plus de grand méchant qui dure en plusieurs tomes, mais plutôt des romans qui deviennent indépendants les uns des autres.
L'auteur a pas mal diminué les rappels et répétitions des tomes précédents, ce qui fait qu'on peut presque prendre la série en cours de route.

Ici l'auteur mêle à la fois l'actuel - la position, inconfortable, de Reine du Crime d'Ashland - et l'ancien - avec le retour d'un vieil ennemi.
J'aurai aimé voir plus Gin agir comme Reine, même si ce n'est pas un choix qu'elle a fait, mais une position qu'on lui a imposée. Ici on a une petite scène au début qui lance l'histoire, et on en reparle en fin de roman, c'est tout. J'aurai bien voulu plus.

Du côté du vieil ennemi, rien de bien original, si ce n'est que pour une fois Gin acceptera de l'aide. Certes pas d'un allié, mais d'une personne qui aura temporairement les mêmes buts qu'elle. Elle apprendra même quelques trucs sur son pouvoir, c'est pas si mal.

La fin laisse sous-entendre le nouveau vilain qui arrive, et pas mal d'ennui en perspective pour notre assassin qui devra prendre des décisions difficiles par rapport à sa famille.

En bref, ce n'est pas un mauvais tome du tout, il est même plutôt plaisant, mais la série n'a plus l'attrait des début. On ne la dévore plus. On prend plaisir à sa lecture, mais il n'y a presque plus d'enjeu. Cela devient une série de titres dont on sait qu'on aimera l'histoire. C'est déjà beaucoup.
Infos :
Autres Tomes :
Autres Avis :
Autres Couvertures :