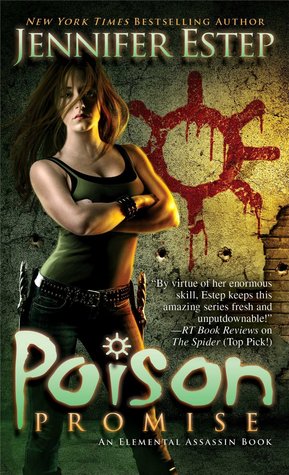 Quatrième de Couverture :
Gin Blanco is hard-nosed, sexy, and lethal. Nicknamed "The Spider," she's a stone elemental assassin who brings her unique mix of magic and tact to every assignment, no matter the target.




There's a new drug on the streets of Ashland, and its name "Burn" sums up the potent effect it has on its users. When one of her restaurant employees is threatened by dealers of the drug, Gin steps in to set things straight…
Note :
Avis :
Depuis quelques tomes, l'auteur semblait faire du sur-place avec sa série. Beaucoup de répétitions, d'histoires au même schéma narratif et aucune réelle avancée sur le fond. Le dernier tome,
The Spider
, était un peu différent puisqu'il portait sur le passé de Gin et celui d'avant encore,
Heart of Venom
, sur Sophia.
Mais là, l'auteur a enfin choisi d'avancer et de débloquer les choses.
Alors que depuis un moment Gin se contentait d'attendre qu'on vienne à elle, elle réalise que cela ne peut plus durer. Elle va devoir frapper un grand coup si elle veut que la pègre la laisse un peu tranquille.
Bria de son côté, devient folle. Elle est méconnaissable et comme investi d'une mission divine. Elle rejette tout le monde, est cruelle et blessante. Heureusement, Gin ne lui en tiendra pas rigueur et l'aidera malgré tout.
Enlevée, torturée, Gin devra une fois de plus faire preuve de courage pour se sortir de tout cela. Surtout que dans l'ombre un autre ennemi la guette.
L'histoire avec Bria, aussi dure soit elle, est intéressante surtout pour les conséquences que cela va avoir par la suite. Les actions de Gin, la façon dont elle s'y est prise, et l'associé qu'elle récupère sont autant de pièces pour la partie suivante.
Mais surtout, Jennifer Estep met en place le futur croque-mitaine de l'Araignée. Les lecteurs un minimum attentifs relieront rapidement les points entre eux, mais pour autant je me demande ce que l'auteur nous réserve.
On pourrait dire que l'auteur n'innove pas vraiment et semble récupérer des recettes qui marche, pourtant j'espère bien qu'avec les pouvoirs de M.M.M. on aura quelques surprises...et que l'auteur résistera à la tentation de nous faire du réchauffé.
Affaire à suivre !
Infos :
Autres Tomes :
Autres Avis :
ras
Autres Couvertures :
ras
Challenges :