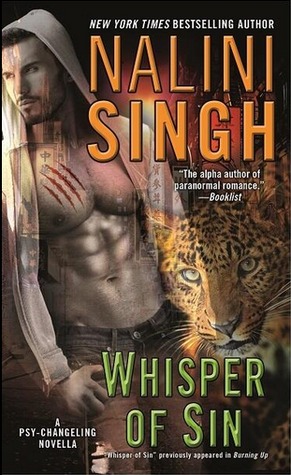 Quatrième de Couverture :
San Francisco is under threat from a violent gang…a gang that has no idea who they're challenging. The DarkRiver pack of leopard changelings has already claimed the city as their territory, and they will fight with wild fury to protect its residents. Emmett, a lethally trained leopard soldier, isn't about to let outsiders muscle in on his home ground—especially when they target a human named Ria.

Emmett has one word for the smart stranger with her curvy body and tough spirit: mine.

Possessive, dominant, unyielding in his demands and desires, Emmett is unlike anyone Ria has ever before met. But while the sexy leopard changeling makes her body ignite, his kisses molten and his touch addicting, she's no pushover and she has a few demands of her own. This leopard has met his match…

"Please note that Whisper of Sin is a reissue. It was first published in the multi-author anthology, Burning Up. This is the worldwide stand-alone ebook release for those who wanted to buy only this novella from the anthology.

For those of you who have Wild Invitation, this novella wasn't in that collection." - Nalini Singh
Note :
♣♣♣

♣♣
Avis :
Voici une petite nouvelle de l'univers Psi Changeling qui se déroule avant le tome 1. On aperçoit Lucas à une ou deux reprises, mais ce n'est clairement pas lui le héros de la nouvelle. C'est amusant alors de découvrir comment vivait la meute, surtout vis à vis des humains. En effet, ici la meute de Lucas en est encore à défendre son droit à revendiquer la ville.

On a bien sur une romance, entre un DarkRiver et une humaine. Un gang humain conteste la suprématie des changeling, et ils s'en prennent à une humaine qui réveille les instincts du léopard.
Entre la romance, se dessine la lutte entre les deux groupes. L'enjeux est de taille car non seulement les léopards doivent envoyer un message fort aux autres prédateur, mais surtout s'ils arrivaient à se débarrasser du gang ils deviendraient des interlocuteurs de poids face au Psis et les humains les verraient comme des alliés - un atout non négligeable.

La romance est bien construite et très plaisante à suivre. Malgré le fait que ce ne soit qu'une nouvelle, l'auteur prend son temps pour développer son histoire et c'est un bon point.
Une nouvelle que je vous recommande si vous aimez la série, même si elle n'apporte rien dans le fil rouge principal.
Infos :
Autres Tomes :
Autres Avis :
Autres Couvertures :