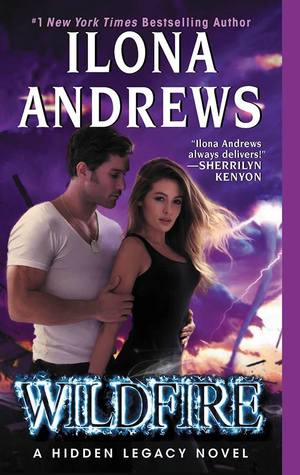 Quatrième de Couverture :
Just when Nevada Baylor has finally come to accept the depths of her magical powers, she also realizes she's fallen in love. Connor "Mad" Rogan is in many ways her equal when it comes to magic, but she's completely out of her elements when it comes to her feelings for him. To make matters more complicated, an old flame comes back into Rogan's life…

Rogan knows there's nothing between him and his ex-fiance, Rynda Sherwood. But as Nevada begins to learn more about her past, her power, and her potential future, he knows she will be faced with choices she never dreamed of and the promise of a life spent without him.

As Nevada and Rogan race to discover the whereabouts of Rynda's kidnapped husband and are forced to confront Nevada's grandmother, who may or may not have evil motives, these two people must decide if they can trust in each other or allow everything to go up in smoke.




Note :
♣♣♣♣

♣
Avis :
Wildfire est le dernier tome de la trilogie Hidden Legacy. Les auteurs espère pouvoir continuer la série, mais attendent un peu (entre leurs projets divers et les retours éditeurs). Donc même si j'ai hâte de continuer à suivre cet univers, je vais pour l'instant, voir ce tome comme le dernier.

Plusieurs choses se déroulent en parallèle : déjà, la relation entre Nevada et Connor. En effet, ils gardent un côté Romeo&Juliette de part leurs milieux respectifs et donc cela peut amener d'éventuelles complications.
Ensuite, il y a la question évoquée au tome précédent, de la fondation d'une maison.
L'enquête du tome, qui porte sur un personne déjà évoqué au tome précédent (mais assez rapidement c'est vrai).
Enfin, l'intrigue de fond sur Cesar.

Beaucoup de choses, mais les auteurs réussissent à tout mener de front sans perdre l'attention du lecteur. Tout s'équilibre et passer d'un élément à l'autre nous permet également de "souffler".
La relation entre Nevada et Connor est particulièrement réaliste et les difficultés qu'ils peuvent rencontrer sont cohérentes avec ce que le lecteur peut imaginer ou vivre. Bien sûr, tous les événements sont rapprochés dans le temps, mais cela reste normal. Rencontrer une ex, se poser la question de l'avenir, etc.
Pour autant, ils se taquinent ou se câlinent, tout en "faisant leur boulot". Malgré leurs sentiments clairs et forts, cela ne débordent pas sur leur professionnalisme.

L'intrigue m'a semblé un peu facile, principalement parce que j'ai deviné le twist assez rapidement. Cela étant dit, c'est plutôt bien mené et les indices sont dissimulés tout le long du roman. Cette intrigue permet même de travailler d'autres pistes.

Enfin, le plus important, la grand-mère et Cesar. J'ai des doutes sur l'identité de Cesar, mais il faudra attendre d'autres histoires pour en être sure !! Ce qui m'intrigue, ce sont ses motivations, surtout compte tenu de son identité potentielle.
La grand-mère de son côté, est géniale. Elle est vicieuse et déterminée, mais curieusement loyale envers sa famille. J'ai bien aimé !!

Au final, c'était à nouveau un excellent roman, que j'ai pris un très grand plaisir à découvrir. Un monde original, des personnages vraiment attachants et des intrigues suffisamment captivantes pour équilibrer le tout.
Bref, une réussite !
Infos :
Wildfire
Hidden Legacy #3
Ilona Andrews
Avon (juillet 2017)
391 pages
4.99 € (numérique) - 22.99 € (relié) - 31.62 € (téléchargement audio) - 7€ (poche) - 35.46 € (CD Audio)
Fiche Goodreads
Autres Tomes :
Autres Avis :
Autres Couvertures :
Challenge :