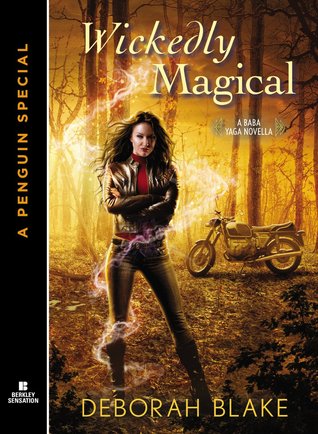 Quatrième de Couverture :
Known as the wicked witch of Russian fairy tales, Baba Yaga is not one woman, but rather a title carried by a chosen few. They keep the balance of nature and guard the borders of our world, but don't make the mistake of crossing one…

Barbara Yager loves being one of the most powerful witches in the world, but sometimes she'd rather kick back in her enchanted Airstream with a beer in her hand than work out how to grant the requests of the worthy few who seek her out.

But when a man appears with the token of a family debt of honor, Barbara must drop everything to satisfy the promise owed by her predecessor—and she isn't above being a little wicked to make sure the debt is paid in full…
Note :
♣♣♣

♣

♣
Avis :
J'ai lu il y a quelques temps le tome 1 de cette série. Une série vraiment originale qui portant sur une mythologie peu exploitée : la Baba Yaga.
J'ai fini par me décider à lire cette nouvelle, qui se déroule avant le premier tome, mais qui porte sur la même héroïne (dans le tome 2 on suit une autre Baba Yaga).
Dans cette nouvelle, Barbara est appelée pour répondre de la dette de son mentor.
Un homme d'origine russe suit les conseils de sa grand-mère, appeler la Baba Yaga à l'aide. Sa femme est partie avec ses enfants rejoindre une sorte de secte, et à chaque tentative de récupération des enfants les choses tournent étrangement, laissant présager qu'il y a de la magie à l'oeuvre.
Barbara est tenue de régler sa dette mais elle est touchée par l'histoire de cette homme. De plus, les soupçons de magie qui règnent dans cette affaires l'inquiète : il est dangereux de laisser des objets magiques dans la nature, là où des humains pourraient les trouver.
Elle décide de s'infiltrer pour régler toute cette histoire et demandera de l'aide à ses deux collègues d'Amérique du Nord.
Cette nouvelle est très complète. Courte, mais efficace et suffisante. J'ai retrouvé Barbara avec plaisir, et j'ai bien apprécié de découvrir les autres Baba.
Si vous lisez en anglais, je vous invite à découvrir cette série vraiment plaisante et originale. On quitte les créatures et le folklore habituel pour rêver plus original.
Infos :
Autres Avis :
-
Autres Couvertures :
-
Challenge :