Quatrième de Couverture :
When Cammie Morgan enrolled at the Gallagher Academy, she knew she was preparing for the dangerous life of a spy. What she didn't know was that the serious, real-life danger would start during her junior year of high school. But that's exactly what happened two months ago when she faced off against an ancient terrorist organization dead set on kidnapping her.

Now the danger follows her everywhere and even Cammie "The Chameleon" can't hide. When a terrifying encounter in London reveals that one of her most-trusted allies is actually a rogue double-agent Cammie no longer knows if she can trust her classmates, her teachers—or even her own heart.

In this fourth installment of the New York Times best-selling series, the Gallagher Girls must hack, spy, steal, and lie their way to the truth as they go searching for answers, recognizing that the key to Cammie's future may lie deep in the past...
Quatrième de Couverture française :
En étudiant à la Gallagher Academy, Cammie savait qu'elle se préparait à la dangereuse vie d'espionne. Ce qu'elle ignorait, c'est que le vrai danger surgirait avant même la fin de ses études. Une ancienne organisation terroriste a juré de la kidnapper, et désormais, elle n'est plus en sécurité nulle part. Même elle, pourtant surnommée le Caméléon, ne parvient pas à se cacher : un comble ! Quand elle découvre que l'un de ses meilleurs alliés est en réalité un agent double, Cammie ne sait plus à qui se fier. Qui d'autre s'apprête à la trahir ? Ses amies ? Ses professeurs ? Son cœur ?
Note :
♣♣♣

♣♣
Avis :
Depuis la fin du tome précédent, Cammie a compris que les choses n'allaient pas s'améliorer dans l'immédiat. Elle est en danger et ne peut plus se dissimuler comme avant, on la surveille et pas que les gentils. Mais alors le pire arrive : une personne sur qui elle pensait pouvoir compter semble être du côté de ceux qui lui veulent du mal.
Son instinct lui souffle qu'elle doit garder la foi, mais tout autour d'elle, on la met en garde.

Elle pourra bien sur compter sur ses fidèles amies, toujours prête à la soutenir et à la croire, mais le doute est là. De même que l'incompréhension : que lui veut-on ? Pourquoi elle ? et pourquoi Maintenant ?
Zach est toujours aussi insaisissable et apporte plus de questions que de réponses, pourtant il apporte un peu de paix à Cammie qui peut, parfois en sa présence, lâcher prise et redevenir une ado comme (presque) les autres. La présence sporadique de Zach, malgré les questions que l'on se pose, apporte une touche de légèreté à l'histoire que l'on avait perdu. En effet, exit l'humour enfantin des premiers tomes. Les événements sont sombres et cela se ressent sur le style. C'est dommage en un sens, parce que c'était un petit plus de la série, et pourtant l'approfondissement de l'intrigue arrive bien à compenser cette perte.

Les événements se succèdent poussant Cammie à s'inquiéter et à douter de tout et tout le monde. Sur ce point l'auteur joue vraiment bien. Le lecteur est dans la tête de la jeune fille, et tout comme elle on a du mal à démêler le vrai du faux. On a envie de croire en l'innocence de son allié, mais comment alors que tout l'accuse ? Au fil des événements, les questions s'accumulent. Cammie semble relativement normale (surtout comparée à ses amies) alors pourquoi serait-ce elle la victime ?
Je trouve un peu dommage que Cammie n'obtienne pas de réponses des adultes alors qu'elle semble la première concernée. Ce besoin de maintenir les élèves à l'écart est (à mon sens) un peu incompatible avec l'esprit de l'école qui est de former des espionnes et de leur inculquer le sens des responsabilités et de l'initiative.

A la fin du tome, je me posais toujours autant de questions, mais j'étais plutôt d'accord avec les décisions de Cammie : si personne ne veut lui répondre, autant prendre le taureau par les cornes.
En bref, un tome plus sérieux, mais toujours aussi bon et passionnant.



Infos :
Autres Tomes :
Autres Avis :
Autres Couvertures :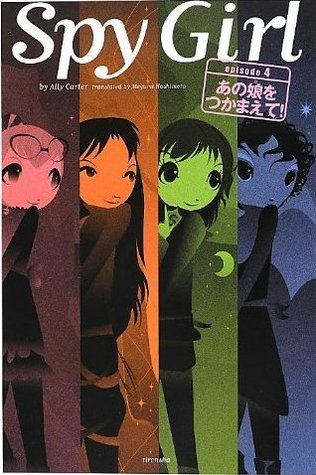 Challenge(s) :