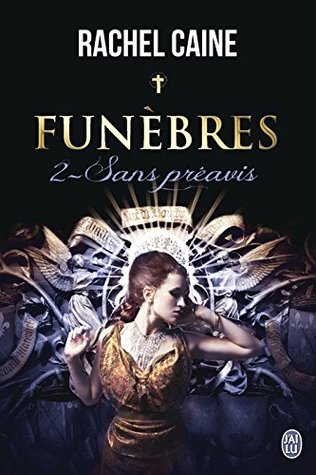 Quatrième de Couverture :
« Depuis mon retour à la "vie", je tente d'apprivoiser ma nouvelle existence, centrée essentiellement sur les pompes funèbres et Pat, tout en occultant la disparition prolongée de ma soeur…
Afin de continuer à bénéficier des soins quotidiens liés à ma condition, je me suis engagée à me rendre disponible pour le FBI si besoin. Aussi, lorsque l'agent Black m'a contactée pour me confier une mission, je n'ai pas vraiment eu le loisir de refuser, même si l'intitulé de celle-ci porte le nom de mon pire cauchemar : Pharmadene. »
Note :
♣♣♣♣

♣
Avis :
J'avais été très agréablement surprise par l'univers original proposé par l'autrice. J'étais également très curieuse de découvrir ce qu'elle allait bien pouvoir faire de son personnage. En effet, on ne peut pas l'utiliser n'importe comment !

Dans ce tome 2, l'auteur va creuser les relations de Bryn mais également ses devoirs. Elle s'est engagé à travailler pour le gouvernement et sait pertinemment qu'elle n'est qu'un pion - aisément sacrifiable - à leurs yeux. Pourtant, elle aime et a peur pour ceux à qui elle tient.

Ce tome 2 est un peu plus complexe dans sa construction que le précédent à la ligne directrice assez claire. Ici faux-semblants et trahisons sont partout. On s'interroge, on se pose des questions - et à la fin il nous en reste toujours !!

On ne peut vraiment pas nier l'originalité de cette série ni ce ses intrigues. Je regrette que le personnage principal n'évolue pas tellement. Malgré son passé militaire, Bryn fait bien plus figure de marionnette. Elle prend assez peu de décision elle-même, et on a l'impression qu'elles sont souvent mauvaises (ou du moins qu'elles ont de lourdes conséquences). Pourtant je ne peux m'empêcher d'être dévorée de curiosité à l'égard du contenu du troisième et dernier tome !!
Et vous ?
English Review :
I was in love with the original background of this book, and in this one, it's always a great time. If the plot is more complex, less evident, I regret than the main character, Bryn, doesn't change.

She is too passive and I have sensed that she just... observe. Others characters make decisions, good or bad, but they try. Brynn doesn't seem have a real plan to achieve her goal.

But I take great time anyway.




It was a great book and I'm impatient to read the last one.
Infos :
Autres Tomes :
Autres Avis :
Autres Couvertures :