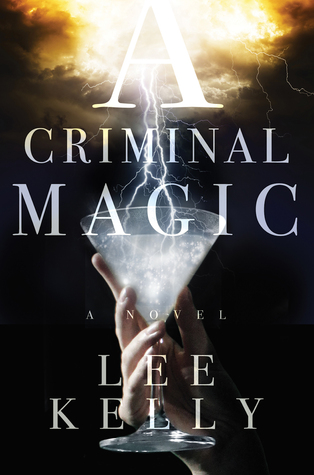 Quatrième de Couverture :
Magic is powerful, dangerous and addictive - and after passage of the 18th Amendment, it is finally illegal.

It's 1926 in Washington, DC, and while Anti-Sorcery activists have achieved the Prohibition of sorcery, the city's magic underworld is booming. Sorcerers cast illusions to aid mobsters' crime sprees. Smugglers funnel magic contraband in from overseas. Gangs have established secret performance venues where patrons can lose themselves in magic, and take a mind-bending, intoxicating elixir known as the sorcerer's shine.

Joan Kendrick, a young sorcerer from Norfolk County, Virginia accepts an offer to work for DC's most notorious crime syndicate, the Shaw Gang, when her family's home is repossessed. Alex Danfrey, a first-year Federal Prohibition Unit trainee with a complicated past and talents of his own, becomes tapped to go undercover and infiltrate the Shaws.

Through different paths, Joan and Alex tread deep into the violent, dangerous world of criminal magic - and when their paths cross at the Shaws' performance venue, despite their orders, and despite themselves, Joan and Alex become enchanted with one another. But when gang alliances begin to shift, the two sorcerers are forced to question their ultimate allegiances and motivations. And soon, Joan and Alex find themselves pitted against each other in a treacherous, heady game of cat-and-mouse.

A CRIMINAL MAGIC casts a spell of magic, high stakes and intrigue against the backdrop of a very different Roaring Twenties.
Note :
♣♣♣

♣

♣
Avis :
Goodreads le présente comme semblable à Night Circus que j'avais adoré. Honnêtement, c'est de l'accroche, mais ça ne va guère au-delà. Il y a certes de la magie et un côté "cirque" dans l'exhibition des magiciens, mais on n'a pas l'enchantement de l'autre livre. Celui-ci est intéressant, mais la comparaison est un peu light.

Dans cette histoire, la magie est prohibée, comme l'alcool dans notre histoire. Les magiciens exercent leur talent de manière illégale, et des gens normaux leur achètent leur shine pour planer, la magie est une drogue. Mais une drogue qui ne dure que quelques heures. Il y a bien une police, mais elle est extrêmement corrompue.
Joan ne maîtrise pas sa magie, mais lorsqu'on lui donne l'opportunité de changer de vie, de gagner suffisamment d'argent pour subvenir aux besoin de sa sœur et de son cousin, elle saute sur l'occasion.
Alex lui tente d'effacer le crime de son père, rongé par la culpabilité car la magie était la sienne. Quand on lui donne l'opportunité d'infiltrer un des plus dangeureux gang de la ville pour le faire tomber, il accepte.

Joan découvre un monde où la magie n'a pas de limite ou presque. Porté par l'ambition d'un homme sans magie, sept magiciens vont apprendre à travailler ensemble. Se produire en spectacle et produire le meilleur shine du monde. En parallèle, son employeur découvre qu'elle est la plus talentueuse de tous. Grâce à elle, il espère créer un shine que l'on puisse transporter, qui ne s'évapore pas.
Alex accepte de vendre son âme et rendre dans le gang des Shaw en gagnant la confiance des pontes de la famille. Mais il est conscient de la précarité de sa situation. Les trahisons se multiplient autour de lui, et il en vient à ne plus savoir ce qu'il est, ce qui est juste.
Mais quand il rencontre Joan, tout change. La jeune femme timide est brillante. Attirés l'un par l'autre, ils finiront par travailler ensemble. Mais comment un représentant de la loi peut-il avoir un avenir avec une magicienne telle que Joan ?

Le roman est un peu long à se mettre en place. Certes cela permet de bien comprendre les choix des deux héros, mais j'ai trouvé ce démarrage un peu trop lent. Difficile pour moi de bien rentrer dans l'histoire. Mais une fois que les présentations sont faites et que l'histoire commence, j'ai été happé par l'intrigue. C'est différent de ce qu'on peut lire, et pas seulement en raison de la période historique ou de la mythologie originale.
J'ai pris plaisir à découvrir cet univers et j'aurai aimé en lire plus. J'aurai aimé continuer à voir le duo Alex/Joan qui est tardif à se mettre en place, mais qui est plaisant.

Un roman difficile à appréhender donc, mais qui m'aura finalement bien plu. Il est original ce qui ne gâche rien. Pas vraiment YA ni NA. Un roman fantastique qui se suffit à lui-même.


Infos :
A Criminal Magic
Lee Kelly
Saga Press (février 2016)
432 pages
24.24 € (relié) - 16.14 € (broché) - 16.97 € (numérique)