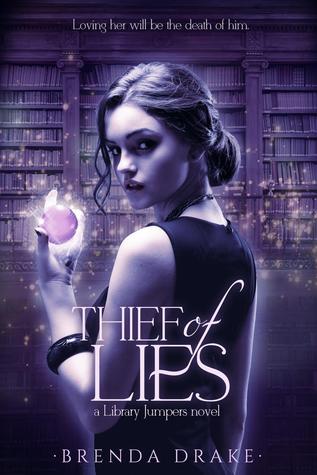 Quatrième de Couverture :
Gia Kearns would rather fight with boys than kiss them. That is, until Arik, a leather clad hottie in the Boston Athenaeum, suddenly disappears. While examining the book of world libraries he abandoned, Gia unwittingly speaks the key that sucks her and her friends into a photograph and transports them into a Paris library, where Arik and his Sentinels-magical knights charged with protecting humans from the creatures traveling across the gateway books-rescue them from a demonic hound.

Jumping into some of the world's most beautiful libraries would be a dream come true for Gia, if she weren't busy resisting her heart or dodging an exiled wizard seeking revenge on both the Mystik and human worlds. Add a French flirt obsessed with Arik and a fling with a young wizard, and Gia must choose between her heart and her head, between Arik's world and her own, before both are destroyed.
Note :
♣♣

♣♣♣
Avis :
Voici un roman qui a su, par sa couverture et son pitch, me séduire. Alors que j'aime les valeurs sures en anglais, j'ai acheté ce roman sur un coup de tête. Voyager à travers les livres, et dans les plus belles bibliothèques du monde ? Tentant ! Au final, l'auteur a voulu - je crois - trop en faire.
L'héroïne, Gia, est un peu garçon manqué mais pas trop, maligne, a une bonne bande de potes et un père qu'elle adore. Lorsqu'un garçon attire (enfin) son attention, elle est médusée de le voir disparaître dans un livre. Elle décide alors de le suivre - bon par accident - et se retrouve plongée dans un monde dissimulé aux humains. Heureusement ses amis seront d'une loyauté à toute épreuve et elle pourra compter sur celui qui a attiré son regard...
On retrouve ici des prophéties, des enfants cachés
(trop)
, des jeunes gens combattant pour la liberté dans le plus grand secret
(hou hou Cassandra Clare ?)
, de la magie, de la trahison, des pouvoirs - dont certains rares et puissants hein - des combats et même un triangle amoureux. C'est trop. Alors quand on rajoute des amours interdits, des fays, des vampires, de la sorcellerie ET des manipulations génétique, moi je craque.
L'auteur semble nous expliquer des choses à chaque page. Elle n'arrive pas à distiller ses informations, et on passe notre temps à apprendre quelque chose de nouveau. C'est dense pour un premier tome. Le fait de retrouver autant d'"éléments" classique du genre est "trop" aussi. Une prophétie et un enfant caché c'était déjà pas mal, en rajouter c'est un poil trop.
Il y a quelques facilités scénaristique (ne serait-ce que le début...c'est un guerrier accompli et il n'est pas fichu de retenir un mot de passe qui n'a jamais changé, qu'il utilise tout le temps...nonnnn il l'écrit sur un bout de papier qu'il laisse traîner n'importe où, bravo !). Bref, c'est lourd et il y a trop de ficelles grosses comme des rondins.
Il y avait du potentiel. Certes ce n'était pas d'une originalité à toute épreuve, j'ai bien sûr pensé à
Rouge Rubis
ou
La Cité des Ténèbres
, mais ce n'était pas important. Le problème c'est que l'auteur veut tout mettre dans son bouquin et que le lecteur s'étouffe un peu avec.
Je ne suis pas sûre de lire la suite.
Une bonne illustration du roman, merci Vippi

Mon avis ? Si vous avez une liseuse, testez ce livre en version numérique, son tarif est assez attractif. Sinon, attendez une (hypothétique) traduction ou une sortie poche.


Infos :
Autres Avis :
Autres Couvertures :