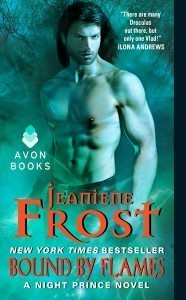 Quatrième de Couverture :
Play with fire, pay the price.

Leila's years on the carnie circuit were certainly an education. What she didn't learn: how to be a vampire, or how to be married to the most famous vampire of them all. Adjusting to both has Leila teetering on a knife edge between passion and peril, and now the real danger is about to begin…

Vlad must battle with a centuries-old enemy whose reach stretches across continents and whose strength equals his own. It isn't like Vlad to feel fear, but he does…for Leila, because his enemy knows she is Vlad's greatest weakness. As friend and foe alike align against him—and his overprotectiveness drives Leila away—Vlad's love for his new bride could be the very thing that dooms them both…
Note :
♣♣♣♣

♣
Avis :
Voici le troisième (mais pas pas dernier) tome de la série sur Vlad par Jeaniene Frost. Toujours très centré sur Leila, l'auteur va une fois de plus mettre notre couple à (très) rude épreuve.
En effet, Vlad essaye toujours de se débarrasser de son ennemi tout en protégeant sa femme. Leila de son côté a beau comprendre Vlad, elle a parfois du mal à gérer son côté autoritaire, surtout lorsqu'il ne la laisse pas discuter
Il n'est pas évident d'être la femme d'un être tel que lui, surtout quand on sait ce que lui a coûté l'amour la première fois.

La première moitié du texte est vraiment éprouvante. Surtout pour Leila ! D'abord mis sur la sellette par le comportement de Vlad, c'est une fois de plus la jeune vampire qui va payer pour les autres. Entre nous, franchement, la torture j'ai du mal. Là, heureusement qu'on ne nous décrit pas les faits mais plutôt les conséquences (voir deux trois "trucs", comme lorsque Vlad attend que sa chère et tendre dorme). Mais même ainsi, j'ai frémis.

La deuxième moitié, sans être plus douce, place les deux vampires sur un terrain déjà plus égalitaire...et ça fonctionne très bien !
Lorsque Vlad laisse une chance à Leila d'être une vampire et non plus une victime à protéger (tout en la protégeant, ne rêvez pas), la jeune femme s'en sort bien et sans être une tête brûlée (ah ah).

Au final c'est un tome que j'ai trouvé un peu moins "prenant" que le premier, mais qui pourtant marche bien. J'ai surtout apprécié la relation de Vlad et Leila qui est de moins en moins déséquilibrée et qui permet de voir le duo fonctionner de manière idéale (ou presque), c'était très plaisant.

La fin est assez "sans surprise" lorsqu'on lit beaucoup. Ce n'est pas un cliffhanger, mais il faut bien remplir un quatrième tome et je suis assez curieuse de savoir comment l'auteur va gérer les pistes qu'elle a lancées.
Bref, un tome plutôt sympa et qui donne envie de continuer !
Infos :
Autres Tomes :
Autres Avis :
n/c
Autres Couvertures :