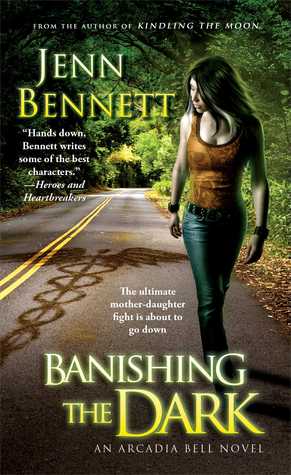 Quatrième de Couverture :
Complicated does not begin to describe Arcadia Bell's life right now: unnatural magical power, another brush with death, and a murderous mother who's not only overbearing but determined to take permanent possession of Cady's body.

Forced to delve deep into the mystery surrounding her own birth, Cady must uncover which evil spell her parents cast during her conception…and how to reverse it. Fast.

As she and her lover Lon embark on a dangerous journey through her magical past, Lon's teenage son Jupe sneaks off for his own investigation. Each family secret they uncover is darker than the last, and Cady, who has worn many identities—Moonchild, mage, fugitive—is about to add one more to the list.
Traduction (on copie, on crédite) :
"Compliqué" ne suffit pas à définir la vie d'Arcadia Bell à l'heure actuelle; des pouvoirs magiques contre-nature, un rendez-vous avec la mort et une mère meurtrière qui n'est pas seulement trop présente, mais aussi déterminée à prendre possession du corps de Cady.
Forcé de se plonger dans les mystères de sa propre naissance, Cady doit découvrir quel sort ont invoqué ses parents lorsqu'ils l'ont conçu...et comment l'inverser. Rapidement.
Avec son amant Lon, ils s'embarquent dans un dangereux voyage à travers la magie de son passé. Le fils adolescent de Lon, Jupe, enquête de son côté. Chaque secret de famille qui est déterré est encore plus noir que le précédent, et Cady, qui a déjà endossé plusieurs identités - Enfant de la Lune, mage, fugitive - est sur le point d'en ajouter une de plus à la liste.
Note :
♣♣♣♣

♣
Avis :
Voici le dernier tome de la série. Et c'est heureux, l'auteur part ainsi au plus fort de sa série, tout en nous offrant un tome prenant et complet, qui permet de clore parfaitement l'intrigue.
Si vous avez déjà lu le tome 3, le rebondissement explosif de la fin nous laissé impatient d'en apprendre plus. L'auteur choisit de faire durer le suspens afin de centrer l'histoire sur le couple Lon/Cady et leur quête, ce qui évite de délayer l'intrigue.
Si la quête est un peu linéaire, je dois avouer que l'auteur a tout de même bien construit son jeu de piste. Le fait que Jupe enquête de son côté ajoute quelque chose de très plaisant à cette histoire.
La fin paraît un peu facile, pourtant l'auteur fait un travail honnête et satisfaisant.

Avec le recul, je mesure plus aisément l'évolution de toute cette histoire sur les 4 tomes qui la compose (j'écarte volontaire la nouvelle, plaisante mais non indispensable). De tome en tome, l'auteur a creusé son intrigue et son background, et on valse d'une intrigue à une autre. Je regrette un peu que la meilleure amie de Cady n'ait pas eu plus d'importance à la fin, mais bon Jupe remplit agréablement ce rôle.

En bref, c'est une série courte mais efficace et plaisante, que je vous recommande fortement !

English Review :
I was impatient and little sad to read this last book. I mean, it's not easy to say good-bye, but at the same times I was so curious to read this final !
I love Cady and her lover, Jupe is delicious, and in Banishig the Dark they are all there. Jupe isn't only a second-hand character, but Cady's best friend's absence was perceptible. Just like the hedgehog !
Cady's and Lon's journey are pretty linear but author saves some surprises for readers. In the end, Cady's mother is a badass, but it's a little easier.
Finally, it was a great series. I recommend it to you !


Infos :
Autres Tomes :
Autres Avis :
Autres Couvertures :
ras
Challenge(s) :