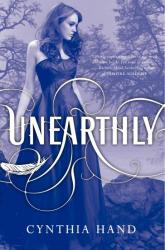 Quatrième de Couverture
In the beginning, there's a boy standing in the trees . . . .
Clara Gardner has recently learned that she's part angel. Having angel blood run through her veins not only makes her smarter, stronger, and faster than humans (a word, she realizes, that no longer applies to her), but it means she has a purpose, something she was put on this earth to do. Figuring out what that is, though, isn't easy.
Her visions of a raging forest fire and an alluring stranger lead her to a new school in a new town. When she meets Christian, who turns out to be the boy of her dreams (literally), everything seems to fall into place—and out of place at the same time. Because there's another guy, Tucker, who appeals to Clara's less angelic side.
As Clara tries to find her way in a world she no longer understands, she encounters unseen dangers and choices she never thought she'd have to make—between honesty and deceit, love and duty, good and evil. When the fire from her vision finally ignites, will Clara be ready to face her destiny?
Unearthly is a moving tale of love and fate, and the struggle between following the rules and following your heart.
MA TRADUCTION :
Au commencement, il y a un garçon dans les arbres…
Clara Gardner a récemment appris qu'elle était en partie angélique. Avoir du sang d'ange dans les veines ne signifie pas seulement qu'elle est plus intelligente, plus forte et plus rapide que les humains (un mot qui ne s'applique plus à elle, réalise-t-elle rapidement), mais cela signifie qu'elle a une mission, une chose qu'elle doit accomplir sur Terre. Deviner ce que c'est, ça, ce n'est pas facile.
Ses visions d'une forêt en flammes et d'un séduisant inconnu la conduise dans un nouveau lycée, dans une nouvelle ville. Quand elle rencontre Christian, qui se révèle être le garçon de ses rêves (littéralement), tout semble se mettre en place - et se défaire en même temps. Car il y a un autre garçon, Tucker, qui révèle une facette de Clara qui est loin d'être angélique.
Comme Clara essaye de trouver son chemin dans un monde qu'elle de comprend pas, elle est confrontée à des dangers insoupçonnés et à des choix qu'elle n'aurait jamais pensé avoir à faire - entre honnêteté et dissimulation, entre l'amour et le devoir, entre le bien et le mal. Quand le feu de sa vision se déclarera, Clara sera-t-elle prête à faire face à son destin ?
Unearthly est un conte d'amour et de fatalité, et la lutte entre suivre les règles et suivre son coeur.
Avis
Tout d'abord mon résumé (qui n'est pas une traduction) pour les non-anglophones.
Ce (premier)roman raconte l'histoire d'une jeune fille qui possède un quart de sang d'ange dans les veines. Peu de pouvoirs, mais elle possède quand même les ailes (qu'elle peut faire apparaitre et disparaitre à volonté) et surtout une mission : Elle doit sauver un garçon d'un incendie. Pour cela, elle va quitter la Californie avec sa mère (demi-ange) et son frère (quart-ange) pour le Wyoming.
Là elle va devoir identifier le lien, le quand et le qui de sa vision. Malheureusement elle est nouvelle et malvenue dans cette nouvelle vie.
Elle va rencontrer une jeune fille qui lui révèle être également une demi-ange et avec qui elle va faire beaucoup de recherches, pour mieux comprendre cette part d'elles.
Mais tout ne se passe pas toujours comme prévu, et quand le cœur s'en mêle, rien ne va plus.
J'ai choisi de lire ce roman parce que j'avais lu que Richelle Mead le recommandait (sur son FB pour ne pas dire de nom).
J'ai fais confiance à cette auteur dont j'apprécie le travail, et j'ai eu bien raison ! L'histoire, adolescente, tiens la route et prouve qu'on peut écrire une histoire d'amour entre adolescents sans tomber dans la mièvrerie (non je ne vise pas une certaine série à succès qui est actuellement en cours d'adaptation au cinéma, non non).
Bref c'est jeune, c'est mignon et j'adore. L'héroïne a de la réflexion et du recul sur ce qu'elle fait. Elle essaye d'être mature pour coller à son devoir, mais ce n'est pas toujours facile à 17 ans. Entre les amies et les ennemies, et une mère qui lui fait des cachotteries, dur de se reposer sur quelqu'un.
Avant la moitié l'histoire est sympathique, à partir de la moitié on accroche vraiment, et dans le dernier quart on ne lâche plus le livre ! La fin, dont j'avais peur qu'elle soit un peu rapide, loin de me décevoir, annonce au contraire le départ d'un nouveau livre.
Alors on peut reprocher un début poussif, mais qui ne m'a pas gêner et qui pose bien le cadre de l'histoire, et une fin rapide, mais on comprend vite que le livre n'avait pas pour but la « fin », la mission de Clara, mais plutôt d'amorcer des questions cruciales.
Bref, j'ai adoré et j'en redemande !
Harper Teen
435 pages
14.09€