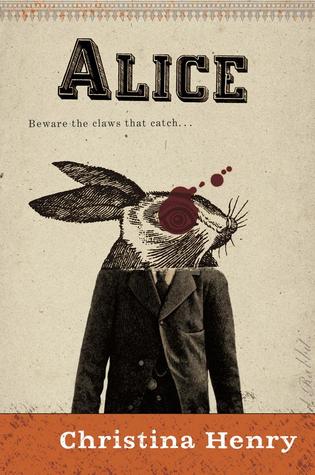 Quatrième de Couverture :
A mind-bending new novel inspired by the twisted and wondrous works of Lewis Carroll...




In a warren of crumbling buildings and desperate people called the Old City, there stands a hospital with cinderblock walls which echo the screams of the poor souls inside.




In the hospital, there is a woman. Her hair, once blond, hangs in tangles down her back. She doesn't remember why she's in such a terrible place. Just a tea party long ago, and long ears, and blood…




Then, one night, a fire at the hospital gives the woman a chance to escape, tumbling out of the hole that imprisoned her, leaving her free to uncover the truth about what happened to her all those years ago.




Only something else has escaped with her. Something dark. Something powerful.




And to find the truth, she will have to track this beast to the very heart of the Old City, where the rabbit waits for his Alice.
Note :
♣♣♣♣

♣
Avis :
C'est l'année des
Alice
, je trouve donc que la lecture de ce roman était parfaitement dans le timing !
Christina Henry nous offre une réécriture moderne des aventures d'Alice au pays des Merveilles.
Ici La ville est séparée en deux : les gens aisés et les autres. Alice est issue d'une famille aisée, mais suite à un drame lors de ses 16 ans, elle s'est retrouvé dans un asile à la limite de la ville "propre". Abrutie par les médicaments, elle évolue dans un monde aseptisé où elle peut se persuadé que l'homme aux oreilles de lapin est une hallucination.
Mais lors d'un gigantesque incendie, elle s'échappe accompagné d'Hatcher, son voisin d'asile.
Commence alors un étrange périple dans le cœur noir de la ville. Un périple pour alors au coeur de ses souvenirs, déméler le vrai du faux et sauver la ville ainsi que tous ses habitants.
Cette réécriture est un peu
creepy !
Originale sans nul doute, elle n'en reste pas moins un peu linéaire. Les événements s'enchaînent les uns après les autres et se résolvent les uns après les autres, amenant leurs lots de solutions et d'inconvénients. Ce côté linéaire est un peu dommage, car à part ça, le roman est vraiment sympa. Original et bien construit, il m'a intéressé de bout en bout.
On ne s'attend vraiment pas à ça et à ce monde.
Que l'on aime ou pas l'
Alice
originale, je vous recommande ce roman qui, s'il n'est pas dans le top du top, n'en reste pas moins une très bonne lecture !
Je viens d'apprendre qu'il y aurait une suite, et je suis très curieuse de la découvrir.
Infos :
Alice
The Chronicles of Alice #1
Christina Henry
Ace (août 2015)
291 pages
14.44 €
Commander en ligne
Autres Tomes :
Autres Avis :
Autres Couvertures :