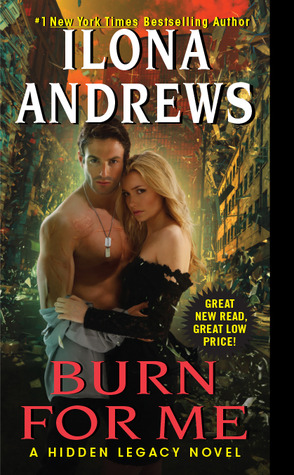 Quatrième de Couverture :
Nevada Baylor is faced with the most challenging case of her detective career—a suicide mission to bring in a suspect in a volatile case. Nevada isn't sure she has the chops. Her quarry is a Prime, the highest rank of magic user, who can set anyone and anything on fire.

Then she's kidnapped by Connor "Mad" Rogan—a darkly tempting billionaire with equally devastating powers. Torn between wanting to run or surrender to their overwhelming attraction, Nevada must join forces with Rogan to stay alive.

Rogan's after the same target, so he needs Nevada. But she's getting under his skin, making him care about someone other than himself for a change. And, as Rogan has learned, love can be as perilous as death, especially in the magic world.
Note :
♣♣♣♣

♣
Avis :
Voici le dernier roman du couple Ilona Andrews. Nouvelle série mais...on retrouve bien la patte de(s) auteur(s) ! Oublions la couverture voulez-vous ? Pour ma part...totale abstraction.

Dans ce monde, un sérum a été inventé donnant des capacités totalement nouvelles à des gens parfaitement normaux. Quelques générations plus tard, le sérum n'est plus mais des lignées de pouvoir se sont créés. Ces familles ont des "territoires" et "gouvernent" carrément des villes entières.
Nevada a des pouvoirs mais ne fait pas parti de ces familles. Elle a plutôt du mal à joindre les deux bouts pour sa famille, mais est dévouée et motivée. Elle m'a fortement fait pensé à Cerise dans Bayou Moon du même auteur.
Privée, elle est engagée par une famille qui possède l'hypothèque sur son entreprise pour retrouver l'héritier turbulent d'une autre famille. Adam Pierce est un Prime, le plus haut niveau de magie. Il peut faire frire Nevada sans effort ni concentration particulière. Enfant gâté, capricieux, orgueilleux et fier, il est recherché pour le meurtre d'un policier et de sa famille. Mais Nevada n'est pas la seule à la poursuite de l'enfant terrible : "Mad" Rogan, Prime tristement célèbre et autrement plus effrayant qu'Adam, s'intéresse lui aussi au gibier de Nevada. La jeune femme sera obligée de travailler avec cette homme qui l'attire et l'effraie à la fois pour réussir à mener sa mission à bien. Mais rapidement, le duo comprend que cette affaire sent mauvais. Quelqu'un tire les ficelles et Adam n'est qu'un écran de fumée...reste à savoir qui est derrière cette histoire, et quelles sont ses motivations.

Si j'ai retrouvé avec plaisir le style de l'auteur dans un monde nouveau et original, on pourra regretter la mise en place un peu longue de l'ensemble. Un second point un peu faible c'est Adam lui-même : en tant qu'objet de la traque on en parle beaucoup mais on le voit peu. C'est très frustrant pour le lecteur.
Excepté ces quelques points, j'ai passé un excellent moment et j'ai hâte de lire la suite.
Cette histoire est un savant mélange de la série Kate Daniels et de la série The Edge de l'auteur. J'adore.
Infos :
Autres Tomes :
à venir
Autres Avis :
Autres Couvertures :
n/c