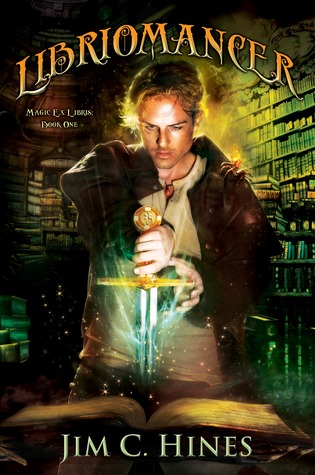 Quatrième de Couverture :
Isaac Vainio is a Libriomancer, a member of the secret organization founded five centuries ago by Johannes Gutenberg. Libriomancers are gifted with the ability to magically reach into books and draw forth objects. When Isaac is attacked by vampires that leaked from the pages of books into our world, he barely manages to escape. To his horror he discovers that vampires have been attacking other magic-users as well, and Gutenberg has been kidnapped.

With the help of a motorcycle-riding dryad who packs a pair of oak cudgels, Isaac finds himself hunting the unknown dark power that has been manipulating humans and vampires alike. And his search will uncover dangerous secrets about Libriomancy, Gutenberg, and the history of magic. . . .
Note :
♣♣♣

♣♣
Avis :
Libriomancer est un roman original et plaisant à plus d'un titre. Isaac est un Libriomancer : c'est à dire qu'il a la capacité de récupérer des artefacts décrits à l'intérieur des romans.
Retiré depuis près de deux ans dans un rôle de bibliothécaire où il détecte le potentiel des romans qu'ils voient, il est soudainement pris à parti par des vampires issus des romans à succès. Ces derniers l'attaquent par revanche contre l'association des Libriomancer car des vampires disparaissent.
Isaac, perdu, est sauvé in extremis par Lena, une dryade. Ils se lancent alors sur les traces d'un homme qui a perdu l'esprit et de Gutemberg.
J'ai beaucoup aimé les multiples références aux auteurs "qui marchent", connus ou parfois un peu moins. On retrouve des artefacts magiques, des romans pour "enfants", des artefacts de la seconde guerre mondiale et quelques créatures magiques. De l'héroïsme extraordinaire et ordinaire, des personnages à la fois proches et totalement étrangers au lecteur. Ce melting-pot est une vrai bonne idée et fait voyager le lecteur. Il y a tellement de clins d'oeil que chacun en trouvera un qui correspond à sa culture.
De plus, cette idée de pouvoir extraire des artefacts d'un roman fait rêver l'amatrice de roman que je suis.
L'intrigue est également plaisante, mais elle avance par soubresaut et c'est dommage. Il y a des passages plus ennuyeux entre les scènes d'actions et Lena ne m'a jamais assez plu pour combler cette lacune. La fin en revanche est bien plus rythmée et prenante.
J'ai bien aimé l'idée et la mise en place, pourtant je n'ai jamais réussi à être totalement passionnée par l'histoire. J'ai bien aimé le héros, qui fait penser à Harry Dresden le meilleur magicien de Chicago, mais je n'ai jamais été happé par l'histoire au point de plonger dans le roman dès que possible.
Au final je dirai que c'est un roman plaisant, mais qui ne reste pas dans les mémoires.
Infos :
Autres Tomes :
Autres Avis :
ras
Autres Couvertures :
Challenges :